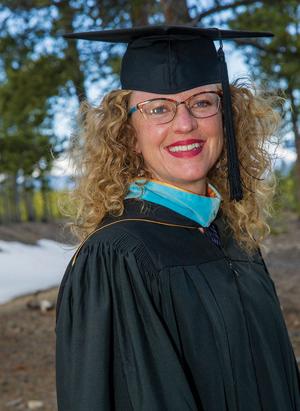 Congratulations to Kelli McCall, Andrew Riggs, and Christine Whittington for being awarded Faculty & Staff of the Year at Colorado Mountain College Leadville. Thank you for your outstanding service to our students, Colorado Mountain College, and the Leadville community.
Full-time Faculty of the Year
Kelli McCall, Discipline Coordinator and Associate Professor of Developmental Education, received the full-time Faculty of the Year award for the Leadville campus. McCall has taught full-time at Colorado Mountain College since 2010, and enjoys getting to know students in and outside the classroom.
"I am reminded every day that each of my students is an expert in some way or field," says McCall, "and it is up to me to tap into that expertise to support his or her educational journey."
Kelli was nominated by Laurie Eanes, a registration technician at CMC Leadville. In her written nomination she says, "Kelli goes above and beyond with all her students. She strives to see them excel academically. Kelli really listens to her students and really works with them to help them improve."
Part-time Faculty of the Year
Andrew Riggs, who teaches Developmental Mathematics and Quantitative Literacy in Leadville, received the campus part-time/ adjunct Faculty of the Year honors for Leadville and Chaffee County.
"I want my students to be able to say that I was genuine and truthful; that I was the same person in the classroom as I was outside of it; and that I cared more for them as individuals than I did about the specific content of the class," Riggs said. "I want them to say that they were more influenced by who I was than by what I told them."
Staff of the Year
Christine Whittington, Library Director at Colorado Mountain College Leadville, received the award for 2017/2018 staff of the year for the Leadville campus. Christine came to Leadville in 2014 bringing with her decades of librarian experience and formal education.
"I love my colleagues on the faculty and staff and our students." says Christine, "I have worked with students at 5 colleges and universities now, and CMC students are the best. They are infinitely patient and polite, and always interested in learning. I also really enjoy being involved in all aspects of running a library rather than just one little part of a huge library."
Christine's nominations touted her many attributes and included thoughtful statements like, "Christine supports faculty and students in research questions and curiosity." and "Christine makes CMC a destination for lifelong learning."